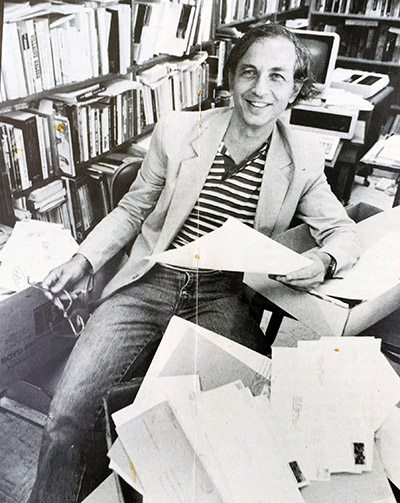 Jerome "Jerry" Stern (1938 - 1996) started teaching at Florida State University in 1966, and for many years was the head of the English Department's Creative Writing program. Stern was well known for being an engaging and popular teacher and mentor, especially with graduate students. He taught creative writing, literature and had a special fondness for teaching popular culture classes. Stern always advocated for public readings by students, faculty members and visiting writers — and enjoyed his turn as well, sharing his work in front of an audience.
While at FSU, Stern created the World's Best Short Short Story Contest and edited the book Micro Fiction: An Anthology of Fifty Really Short Stories. His other books include Making Shapely Fiction (1990), Florida Dreams (1993), and Radios: Short Takes on Life and Culture (1997). He wrote for the Tallahassee Democrat and his essays, which he called radios, were often broadcast on National Public Radio.
After his death in 1996, his wife Maxine and son Bayard, and many generous supporters started the Jerome Stern Creative Writing endowed fund at FSU. Maxine died in 2015 —and her name was officially added to the fund's name. The Jerome Stern Distinguished Writers Series continues to serve as a venue for graduate and undergraduate students from the FSU English Department, as well as bringing in writers from across the country.